Remember a few posts ago when I talked about getting back into running? Well, I started my running journey by participating in the 2015 Boston Athletic Association 10k this past Sunday (6/21). While a tough experience (for a few reasons), I LOVED it.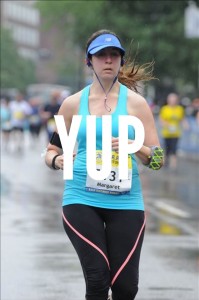 While I'm not going to pretend that I am an experienced runner by any means, I definitely learned a lot about myself and what I can do after this weekend.
Here are the top 5 things I learned from my first race:
1. You can't control the weather – so don't stress about it
I stupidly starting checking Weather.com 10 days out (don't you love this feature on their site? It's actually the devil). I had heard from people who had run this event before that it actually sucks if it's sunny out, since the course has absolutely no shade. However, I was getting beyond nervous as it got closer as the weather report showed heavy storms during the exact time of the race that were coming up to the Northeast from tropical storm Bill. I furiously went on sites like Runners World to find out if I needed to change what I wore, wear a hat, and basically make myself a mental nutcase. It wasn't until I got down to Boston Common and standing in monsoon conditions waiting for the race to start that I just let go – I had made it this far and the weather gods didn't give a crap whether I had my 10k or not.
2. You can't slack on the pre race training
I was pretty adamant about my training for the first few weeks – I downloaded the Nike+ Running app to use the Coach feature, bought an arm band for my iPhone – everything that I thought I "needed" to do to get me started. For about the first month, I was pretty strict about the training regimen and sticking to it. But as usual, I let other things in life get in the way and I put the training on the back burner.
In the weeks leading up to to the event, I was pretty lazy about it – I did a few Barry's classes here and there but I wasn't sticking to the mileage recommended. While I wasn't expecting a PR on my first race, I have to admit that I think this did kick me slightly in the ass on race day. I was hoping to finish in an hour, but my final time was 1:12:46 – I'll take it for now.
3. A good playlist is a great motivator when you want to give up
I literally do NOT understand how people can run without music. Even if I'm running a mile, I need my Jersey shore fist pumping music to get me through it. As seen in the picture above, at mile 4 I was really hurting – I was soaking wet, humid, and I was starting to get a cramp on my right side. It also didn't help that my socks were SOAKED and my feet were killing 🙂 When that next song on my playlist started, it got me pumped up to keep going and give me that extra oomph to push through to the next water checkpoint.
4. Running a race takes physical training – but also mental
As Joan Benoit Samuelson famously said after winning gold in the women's marathon at the 1984 Summer Olympics "Running is 80 percent mental". Yes, you need to run mileage to prepare; yes, you need to download the Nike+ training app – but you also need to train your brain. I haven't completed a marathon (yet!) but can absolutely understand that there can be a point where you need to tell yourself to keep going, regardless of what your body may feel. Halfway through mile 5 I was considering walking for the rest of the race; my legs felt like jelly and I was TIRED. I continued to channel my ujjayi breath (that's a whole other post on my love of yoga!) but I literally whispered to myself "You can do this, keep going, keep going". As cheesy as it sounds, it kept me running to the finish line!
5. The Boston running community is amazing and supportive
I don't think I need to write too much on this as I think most of us have seen the love and support that came out of the horrific events of the 2013 marathon. However, I saw firsthand how much the running community supports one another – from the volunteers at the water stations who told me how great I was doing to the stranger I won't forget near the finish line who yelled my name and bib number and how awesome I was. It reminded me how much I love this city I call home!
Now it's onto the next one…