With the Super Bowl happening last weekend (GO PATS!), I was on the hunt for a healthy party appetizer recipe that could be used anytime. I went on a buying spree last year of healthy flours which have been taking me forever to get through – both almond and coconut flour.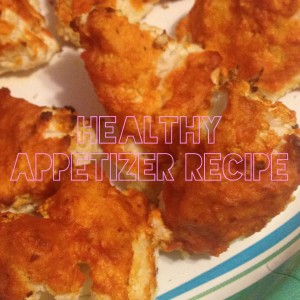 Surprisingly enough, I came across this recipe on Huffington Post for Vegan Cauliflower Buffalo Bites. My last recipe I posted about involved Buffalo sauce – so I promise the next one won't 🙂
Recipe at link above – I took pictures of the process to show you how easy it was! Moving forward, I also want to rate recipes I try on the following so that my readers can know going into it what to expect:
Level: Anyone can do it, Cooking experience required, Need a Culinary degree
Length of time: Short, Takes some time, Clear your afternoon
Taste: Yum, I could eat this all day, Not for me
For this recipe, I think anyone can do it, it takes some time, but I could eat this all day.
One thing to note – I did NOT make the cashew ranch dip – girl ain't got time for that with the Super Bowl. I used the 365 Light Ranch Dressing from Whole Foods, which isn't vegan.
Are there any party recipes you enjoy? I'm constantly looking for ones to "healthify" so comment below or post on Weights & Watermelon's Facebook, Twitter or Instagram accounts!