It's been awhile since I posted – between work, life and everything in between I've admittedly neglected the blog. However, I've kept up with being active and eating (somewhat) well, so I don't feel like a complete lazy bum. One big event did happen since my last post – the 2015 Boston Marathon.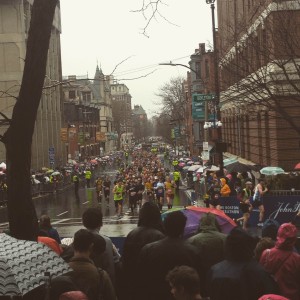 For anyone who lives in Boston, the marathon is a huge event – some companies (like the one I work for) give the day off for Patriots Day – but we all know it's so that we can go watch people run an insane distance 🙂 This year had a bit more meaning for me, as my best friend Siobhan was running it, so I actually had someone to cheer for! The girl is such an inspiration to me – between raising an adorable two year old, working a hectic job, and spending time with her family, she somehow managed to train for the marathon and kick some serious butt.
My friends and I were at Island Creek Oyster Bar for a private event (perks of the job!) and got to enjoy delicious apps and some wine while we tracked those we knew who were running. I made a sign for Siobhan for encouragement, which involved busting out some poster board and Crayola markers – I harnessed some old school drawing skills from middle school!
As you can see from the picture above, it was a VERY cold and wet marathon this year. I kept checking the weather in the days leading up to it, but didn't realize it was going to rain so much until that morning. I was freezing cold standing along the route – so I couldn't even imagine how all of the runners felt having to endure that for 26 miles. As I saw the many facets of people running, it really inspired me – besides my bestie running, I saw people in their 60's and those with prosthetic legs pushing towards the last mile.
I mentioned in one of my earlier posts that one of my goals for 2015 was to run a 5K – this still holds true. However, as I approach my 30th birthday in November, I've been really thinking about things I want to accomplish since thirty years of my life are over. I've always had it on my bucket list to run a marathon, and after seeing all of these amazing people run this year, my bigger goal is to run the 2016 Boston Marathon for charity.
I know this is a HUGE undertaking for someone who hasn't run long distance in a long time – but my hope is that by slowly participating in a 5K, then 10, then half – I can work up to those insane 26.2 miles. And if I can raise money for a deserving charity, even better.
On that note – it's time to lace up my running shoes and hit the pavement!!!