When thinking of content I wanted to cover for this blog, one of the biggest recurring topics that came to mind was how to stay fit and eat healthy, without breaking the bank.
And with that, Financially FIT was born.  In general, people assume that it's expensive to eat well and exercise often – I want to change that perception. Each month, I will share different tips and tricks I've learned that have allowed me to live a healthy life without hurting my finances.
This months topic is meal prepping. Sounds simple right? I'm not going to lie – spending most of my Sundays cooking and putting food into containers isn't easy. However, I enjoy cooking (it's cathartic for me). A few benefits of meal prepping are:
Saves time – During the week it can be hard to cook healthy, especially for people who work full time jobs. By planning ahead, I have a few meals in my fridge that I can quickly toss into my bag to bring to work or heat up when I get home.
Control what you're eating and portion size – Helps me stay on track with my nutritional goals – I know exactly what's in my food and the amount.
Dolla dolla bills – On the weeks that I meal prep, I don't spend any money on lunches at work, which then allows me to save money towards goals I have or allow me to go splurge it on Newbury Street (yes, not financially sound but you need a shopping spree sometimes, right?)
Now that I've had a full week back at work, this weekend was time to get back into the swing of things. I wasn't that great during the holidays of keeping up with meal prepping on Sundays since I was so busy with events and then went on vacation.
This afternoon, my husband and I went to the Wegman's in Chestnut Hill that opened last year – they have a lot of great deals on organic meats and vegetables. We ended up cooking a stir fry, which is one of my favorites as it's so easy – you can throw just about any veggie and meat combination into a pan. I also cooked some quinoa to have with it instead of rice – I still wanted to have a carbohydrate but something that was digestible and NOT stripped of its nutrients.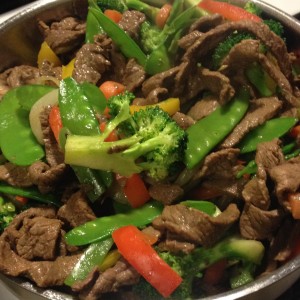 It came out really well – the veggies weren't overcooked and the meat perfectly tender. After enjoying our meal, we portioned out the leftovers into containers. I typically put half of the amount into the fridge, with the other half going into the freezer to save for another week. I don't like to eat the same leftovers everyday, so this helps break it up.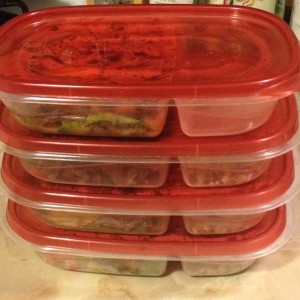 Next months post for Financially FIT will be focused on buying healthy snacks. If you have any other ideas you'd like me to cover, comment below!